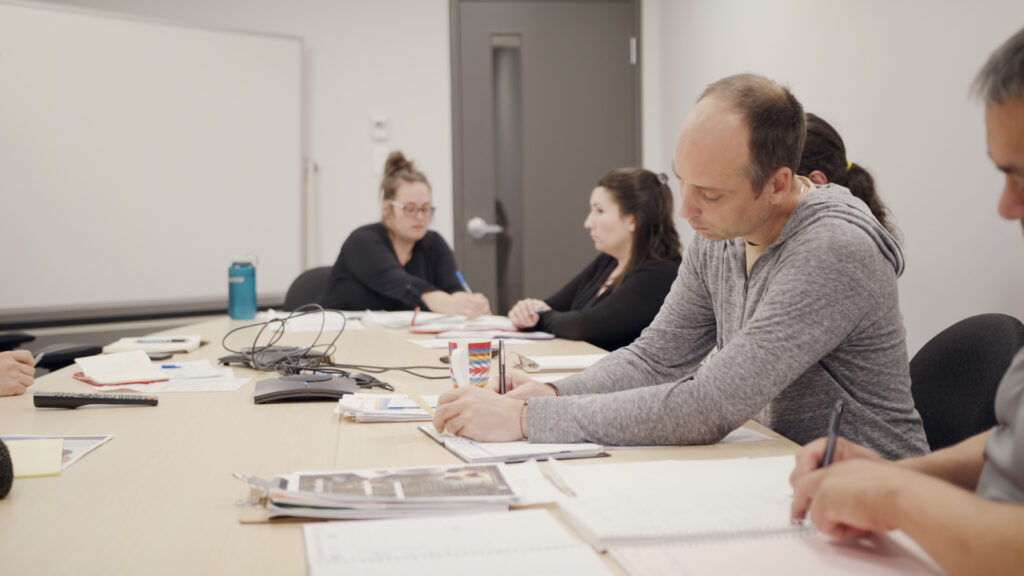 Offre d'emploi
Histoiry Project Manager
This position is open on a priority basis to indigenous candidates who possess the required skills.
Description de tâche : L'agent de projet travaillera à l'encadrement et à la réalisation de tâches liées à la valorisation des cultures des Premières Nations et des Inuit notamment en lien avec l'histoire, les relations autochtones, les ainés et la jeunesse, ceci menant à la création et à la production de matériel culturel et artistique.
Tâches et responsabilités : In collaboration with the general management and supervision of the project1, the person will :
A. Administrative function :
Work with the management committee for the implementation of the project;
Assist in the coordination of the project:

Follow up as mandated by the management committee;
follow up on the stages of project completion according to the work plan;

Manage the work schedule and the management committee's work schedule;

manage priorities and emergencies;
ensure that the project's objectives are met;

Ensures the planning, organization and note-taking of meetings and produces minutes or summaries of team meetings;
B. Networking Function :
The person must establish and maintain active and dynamic communication with the project partners in order to solicit and centralize their contributions;
He/she must carry out various communication actions for the purposes of information, mobilization and coordination of actions with several collaborators;

By means such as: e-mails, newsletters, phone calls necessary for active communication.

She provides supervision and follow-ups with various people who have to carry out mandates for the project;
He/she will be responsible for coordinating the organization of virtual meetings of the various committees (meeting logistics with videoconferencing platforms or in person, calls for papers, invitations, program, etc.).
Profile sought: Profile sought: The selected candidate should have a degree in history or a related discipline such as anthropology, ethnology, project management, regional studies and interventions, literature, education or other relevant fields. (Proof of diploma will be requested from selected applicants.).
One or multiple relevant professional work experience :
Have experience as a research assistant in the academic field;
Relevant experience of more than two years in a similar project would be an asset;
Relevant experience in communication and mobilization in an Indigenous context is an asset;
Have relevant experience in coordination or project management;
Have an excellent command of languages: French and English, both written and spoken;
Being a member of one of the First Nations and Inuit in Canada is one of the priorities for this position;
Qualities sought: initiative, autonomy, dynamism and interpersonal skills;
Be available to carry out contracts with First Nations communities in Quebec, travel as needed, have a valid driver's license and no criminal record.
.
Salary : Between $32,000 and $43,680 per year, to be determined according to the rates in effect at La Boîte Rouge VIF, the candidate's experience and skills.
Start date : beginning of February 2021.
Description of the conditions : Six-month position with the possibility of extension. The number of hours is 35 hours/week. It is a day job, but occasionally evening work with the possibility of working on weekends. The work schedule is to be agreed upon according to family conditions.
Workplace : Telework (COVID-19) – Ability to remain teleworking afterwards. All equipment necessary to complete the tasks will be provided.
You must send us a letter of interest and a curriculum vitae to: manuel.kurtness@laboiterougevif.com
*IMPORTANT NOTE: use the above email address. No applications will be accepted via social media or any other platform.)
Application deadline : January 29, 2021 by 4:30 p.m.
Only selected candidates will be invited for an interview..
---
1 Project Management Committee History in Canada: First Peoples' Perspectives. Cégep de l'Outaouais, La Boîte Rouge VIF, Kitigan Zibi Education Sector, Kiuna Institute, Avataq Institute, Médérik Sioui (historian) and the University of Ottawa.