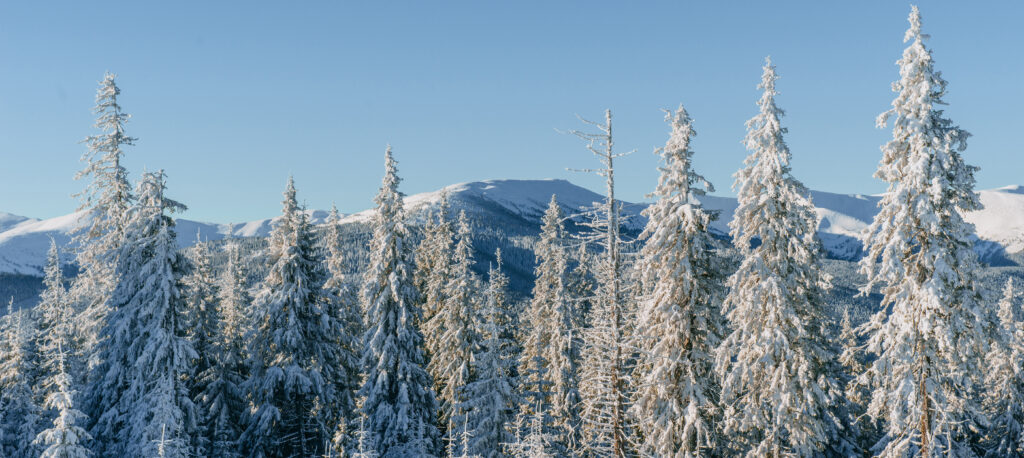 Indigenous presence highlighted in the urban space of Saguenay!
On December 10th, La Boîte Rouge VIF and the Centre d'amitié autochtone du Saguenay (CAAS) remarkably underlined the First Nations presence in the urban environment by promoting Innu and Atikamekw languages and cultures through the installation of two permanent transmission pieces of work.
« Là où je me sens bien / E ici mireromian / Nte minueniuan » is a project that gives voice to the two main First Nations present on the territory of Saguenay: the Innu and the Atikamekw.
Through an intergenerational approach, CAAS members have identified symbolic places where they feel good. These places served as the raw material for artists Eruoma Awashish, Jean-Luc Hervieux and Marie-Andrée Gill. They have brought these places to life by producing works that bridge the gap between these families and the people of Saguenay.
This project aims to demonstrate the First Nations' sense of belonging to this territory in connection with pride of identity; it also contributes to building bridges with the city's citizens, as it is a tool to counter misunderstanding and racism towards Indigenous people. The population is invited to connect to this territory that we collectively inhabit and to go and meet these works, right here in the heart of the Saguenay territory.
Key Partners: Ville de Saguenay, Corporations du parc de la Rivière-du-Moulin et de la Ville de Saguenay et Anne Ardouin, artist and researcher.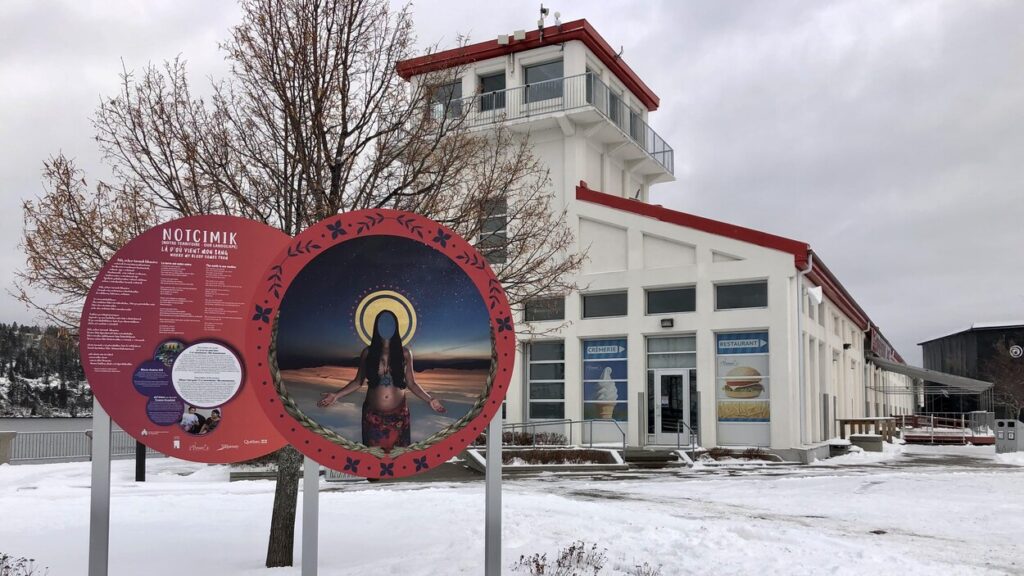 ---
Territory of encounters
September 26th began the first phase of the Territory of Encounters project in Mashteuiatsh. This project, funded by the Secrétariat à la jeunesse du Québec and the Canada Council for the Arts, offers training in new recording tools (telephone, 360 camera) through intergenerational exchanges and the creation of a transmission pieces that will highlight these exchanges. The training was repeated in Waswanipi in November and two other communities, to be confirmed, will also host this project in 2021.
The central objective is to engage the young participants in a common creative process for the transfer, documentation, conservation and transmission of their cultural heritage with a focus on training a dynamic new generation of cultural ambassadors.
More specifically, the training aims to contribute to the re-establishment of the relationship between the youth and the Elders of the First Peoples, but also to encourage the youth in their schooling and to engage them towards a process of self-determination, both personal and cultural. This would make it possible, on the one hand, to recognize the ancestral knowledge formerly transmitted from generation to generation and, on the other hand, to bring together young people and elders so that they can exchange on this knowledge.
The creation part aims first of all to leave a permanent trace in the host community that will highlight the ». This work will allow the public to encounter the heritage and cultural identities highlighted in the first part of the project.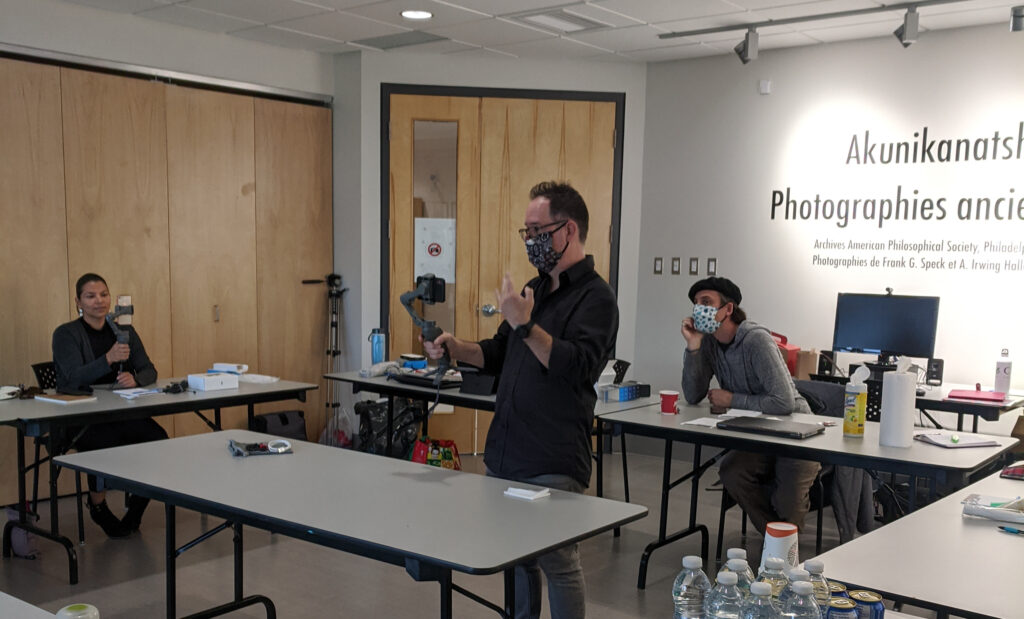 ---
Concerted action: launch and implementation
Last Thursday, November 26, the official launch of the project Action Concertée | Cultural Safety Approach to Support Indigenous Student Retention and Educational Success North of 49th Parallel took place.
This research project consists of promoting and developing examples of inspiring practices in the field of cultural safety. Therefore, we are seeking the collaboration of teachers, professionals, agents, schools, community and cultural workers, and principals who work directly with indigenous students and their families, in communities or in urban settings.
To this end, the Institut Tshakapesh, UQAC's Nikanite First Nations Centre, La Boîte Rouge VIF and the team of institutional partners, including the Université du Québec à Chicoutimi, held an online event to inform potential partners and collaborators. A website will soon be launched to follow the evolution of the project.
When you think of the practices deployed in your environment to support indigenous students, who do you think of?
For information, contact Julie Rock, research assistant (julie.rock@uqac.ca) or Christine Couture, research manager (christine.couture@uqac.ca).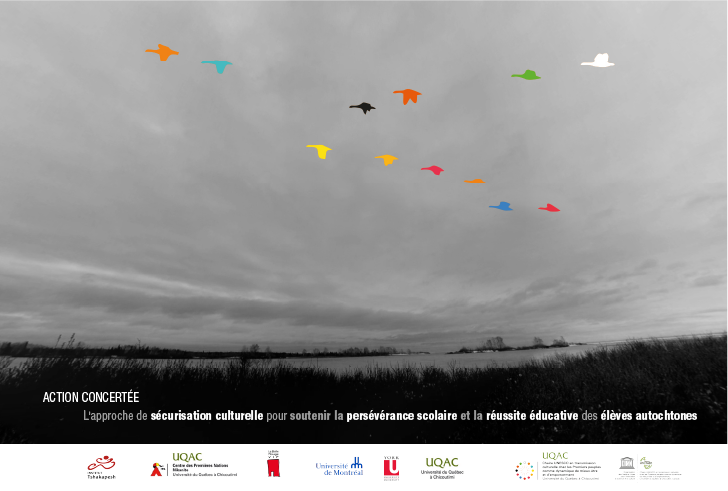 ---
First Nations Cultural Heritage Sites Protection
Funded by SSHRC through its Connection program, the Mobilizing for the Protection and Presentation of First Nations Cultural Heritage Sites – Sharing Best Practices project had to reinvent itself in virtual mode.
On December 14, we held a Zoom meeting between Atikamekw, Innus and Nlaka'pamux in order to question, from an indigenous point of view, what should be considered as a site to be protected.
Beyond biodiversity and cultural heritage, the protection and valorization of ancestral territories must be anchored in the relationship that the First Peoples have had with the environment for millennia. In order to have sacred sites recognized from this perspective, the group makes an incursion into vernacular languages to define this link: the spirit of the place, respect and gestures, fullness.
The history of this meeting between different Nations is written in the measure of the exchanges. The actions of each will be highlighted, inspiring practices will be highlighted to contribute to the empowerment of indigenous communities for the protection, transmission and valorization of sacred sites on their traditional territories.
---
Canadian History: First Peoples Perspectives
The project was relaunched this fall after being delayed for some time due to unforeseen circumstances. After nearly completing the preliminary phase, the identification of existing archival documents and the development of an online database, this project is gaining momentum with the simultaneous implementation of the first and second phases: consultation and website development.
Through the conduct of focus groups in each nation and the creation of a First Peoples Advisory Committee, this project aims to continue to amplify the voice of First Peoples in transmitting the history of the territories. The next phases involve engaging community researchers to connect with community Elders and Knowledge Keepers to collect data that will then be used to develop the pedagogy. 
For more information, you can contact the project manager Kahsennoktha (Naomi George) at kahsennoktha@laboiterougevif.com.

---
Support for the recruitment of new members
Over the past year, the members of the Board of Directors and the team have undertaken a great deal of reflection and have taken concrete action regarding governance. This long-term work has made it possible to welcome new members and to implement a governance system that reflects our mission and our collaborative actions.
This work is part of our strategic planning for 2017-2022 and we are very pleased with this accomplishment. It should also be noted that several members were able to attend the annual general meeting held virtually on October 27.
The implementation of La Boîte Rouge VIF's collaborative governance was made possible by a grant from the Conseil des arts et des lettres du Québec (CALQ) as part of Re-Connaître, a program for Aboriginal arts aimed at revitalizing, creating, transmitting and developing organizational capacity. As well as with the following financial support, for which we are very grateful:

A donation from the RBA Foundation :
We have received the support of the RBA Foundation, whose mission is to contribute to the well-being of First Nations. It supports, enables, encourages and promotes actions and initiatives with a view to enhancing the value of culture and the cultural security of life. Their contribution of $3,500 enabled us to hold the general assembly of members and to allow the BRV's actions to spread.

Members of Parliament who recognize our community relations efforts: We are constantly working on project submissions with organizations. Occasionally, we meet with politicians who work with First Nations. With their financial support, we have contributed to the holding of the event and to its influence.
We are very grateful for the financial support of the following Members of Parliament:
Ian Lafrenière
Member of Parliament for Vachon
Minister Responsible for Aboriginal Affairs
Coalition Avenir Québec
Financial contribution of $1,000

Manon Massé
Member of Parliament for Sainte-Marie -Saint-Jacques
Spokesperson for Québec solidaire and parliamentary leader
Relations with Indigenous Peoples
She is the leader of the second opposition group.
Personal donation of $500

Sylvain Gaudreault
Member of Parliament for Jonquière
Spokesperson for the Parti Québécois on the environment and the fight against climate change, labour, the Treasury Board and energy.
Donation from the firm $250
---
News from our members :
Stephane Nepton and Andréa Gonzalez of Uhu Labos Nomades
Activities in recent months and ongoing projects.
Over the last few months, we have cancelled several face-to-face meetings with different communities. We have had to adjust in order to be able to continue some projects remotely and to plan our future projects for the next few years.
Project NATAKANU
Uhu Labos Nomades, along with the Wapikoni Mobile technical team and the Office of Community Engagement at Concordia University, have created a multimedia collaborative creation platform in recent months. It is a tool connected via a peer-to-peer protocol that aims to enhance and share projects and more broadly audiovisual resources (data, sound and image, video, code, etc.).
In summary, the NATAKANU project is :
— a digital platform designed by and for indigenous artists ;
— a tool to create virtual bridges between geographically remote communities;
— a peer-to-peer network capable of operating in situations of poor connectivity;
— an approach to de-hierarchizing cyberspace.
Project Matakan 2021
Project of digital art workshops at the intergenerational transmission site Atikamekw of Manawan.
Project of museum cultural re-appropriation through augmented reality
Ongoing project on the reappropriation of native museum cultural artifacts using photogrammetry and augmented reality techniques. We are designing a decompartmentalization and dematerialization of the museum as we know it.
Project « Caribou » (temporary name)
Ongoing digital project with organizations in Rouyn-Noranda on the condition of caribou in Quebec, an organic and digital project with the youth of the communities.
Digital art in a school context
We are preparing a digital art program (organic/digital) to integrate into the curriculum of schools in some Innu and Atikamekw communities among others.
GLAM videoconference (Australia)
GLAM: Re-imagining galleries, libraries, archives and museums (GLAM sector) through an intersectional vision by dismantling the historically colonial and heteropatriarchal practices of collections and exhibitions.
---
Anne Marchand, Researcher, Université de Montréal
Webinaires "SeeYouth Creative Thursdays"
As part of an « international research initiative » on social innovation called SeeYouth, Jean-François Vachon of the BRV, Anne Marchand of the Université de Montréal and their team organized a series of monthly webinars.
These aim to share practices and experiences in art and design methods used in the field through the implementation of projects with marginalized youth.  They are aimed at teachers, community trainers and students. Jean-François Vachon kicked off the series in November with the conference Technology as a means to create bridges between generations. Interested persons can register on the site to receive invitations.
https://seeyouth.substack.com/
To reach the person in charge: jean-francois.vachon@laboiterougevif.com or by phone Anne Marchand at (514) 343-7576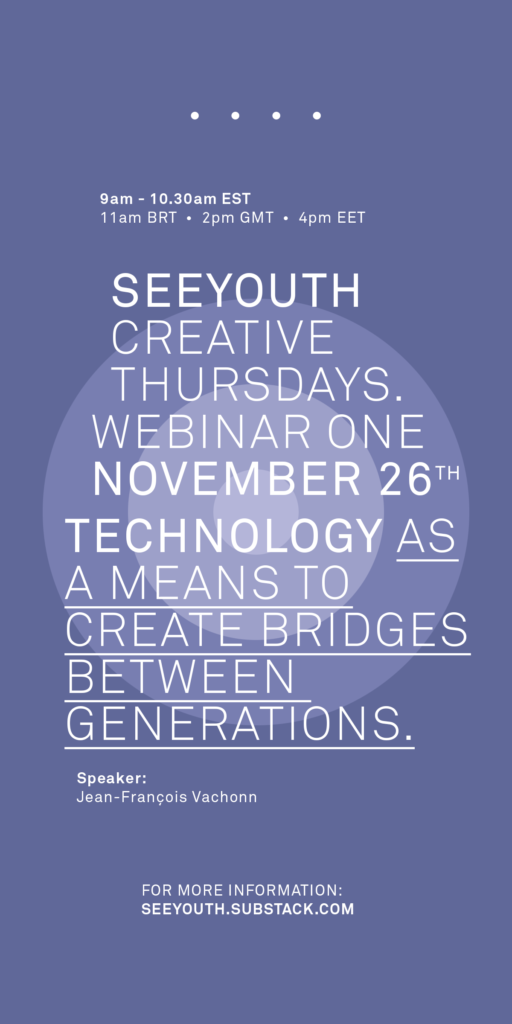 UdeM's 2020-2023 Indigenous Peoples in the Community
Anne Marchand and Elisabeth Kaine were closely involved in the process leading up to the production of the recently launched Indigenous Peoples in the Community Action Plan of the Université de Montréal.
The institution is committed to improving the representativity, welcome and integration of the First Peoples within the framework of its mission. The plan contains 110 measures covering student recruitment, support for success, training, work environment, living environment, research and partnerships.
https://www.umontreal.ca/public/www/images/autochtones/UdeM_PlanDAction_PremiersPeuples_final.pdf
To contact the person in charge: anne.marchand@umontreal.ca
or by phone: Anne Marchand (514) 343-7576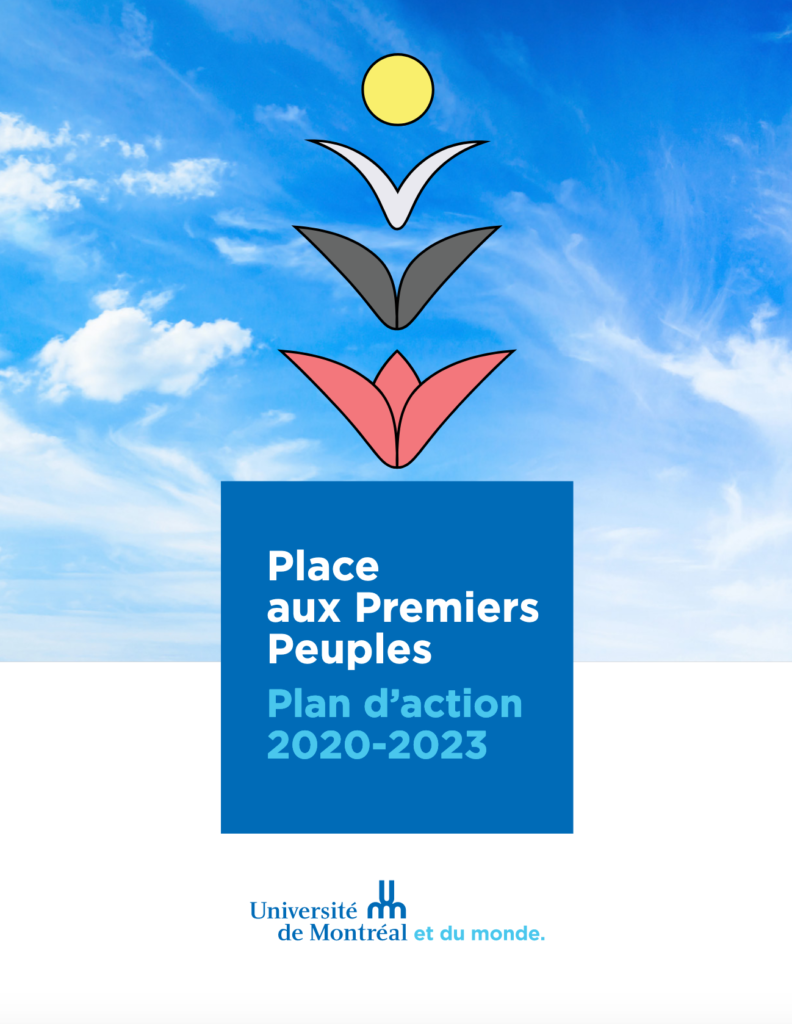 ---
La BRV in video production!
Here is a small preview of a production with Jacques Kurtness and Jean-Philippe Warren that will be used for a future exhibition.