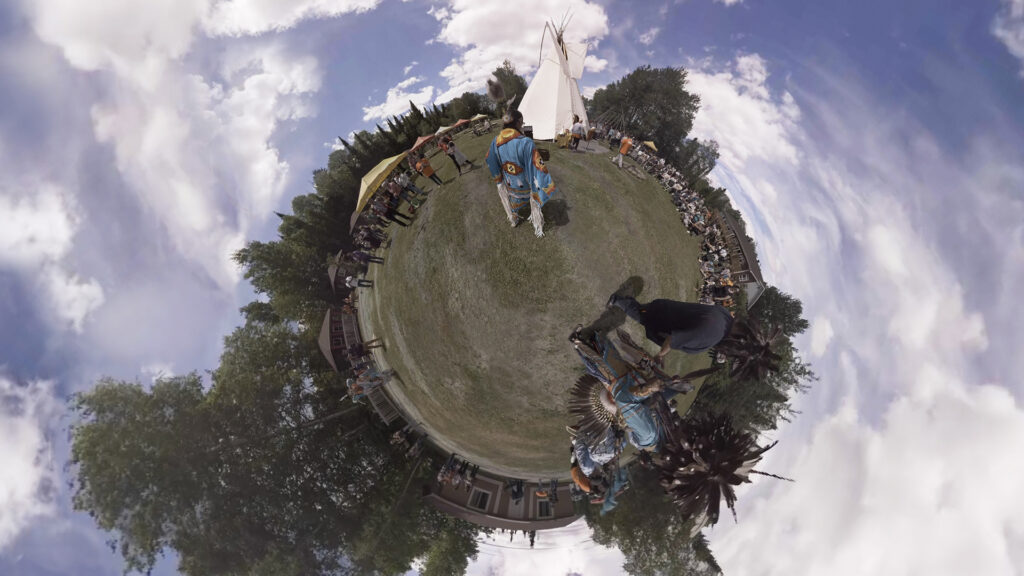 La Boîte Rouge VIF rewarded for the quality of its work and its collaborations at the Numix 2021 Awards
The NUMIX AWARDS rewards excellence in digital creativity in Quebec.
The awards were announced at the virtual gala on May 27, 2021. The "Hanging out" project, which was a finalist in the Online Experience category, received the Special Mention for Inclusion. This award is given in collaboration with the Canada Media Fund and recognizes the quality of a project as an example of good practice in the area of inclusion and diversity within a company.

https://numix.ca/lieux-de-rencontres-hanging-out/
The project consists of presenting young indigenous people from various nations of Quebec who open the doors of their community and share their contemporary reality. People can discover their unique voice, their naturalness and their sincerity. Through the 360˚ video, let yourself be immersed in these places that are important to them. The executive management would like to thank the staff and collaborators as well as those who shared the project with us.
Lieux de rencontre / Hanging out was produced by La Boîte Rouge VIF and the Virtual Museum of Canada.
The project was made possible through the Digital Museums Canada Virtual Exhibits Investment Program.
Within the team of La Boîte Rouge VIF, Jean-François Vachon acted as project manager throughout the project, assisted by Marilyne Soucy with the transcription and the pedagogical cards.
Many partners and collaborators have contributed to the quality of this production:
360˚ video co-scripting : Cody Scott Simon, Émily Kahente Diabo, Chelsea Rose Brazeau Okimawinew, Rhiannon Lambert, young Mowahk dancers, Geneviève Descheneaux Lauzon, Katherine Dutil, Délya Gamelin Rainvile, Kevin Lamothe, Pierre-Alexandre Thompson, Mathieu O'Bomsawin, Fabienne Théorêt, Taïsha Papatie, Martin Gunn, Shana St-Onge, Adamie Philie, Noah Anogak, Noah Matthew Jaaka, Jani Bellefleur-Kaltush, Eruoma Awashish, Lisa-Maude Aubin-Bérubé, Wanda Crépeau-Etapp, Daren Germain, Sandie Germain, Marie-Christine Petiquay, Cléophée Lachapelle, Mylène Trudeau, Charlotte Gauthier-Nolett, Ken Warren Gunn and Lydia Mestokosho-Paradis.
Design, scenarization and programming of the virtual museum: Jean-François Vachon, Olivier Bergeron-Martel, Pierre-Alexandre Audet, Mathieu Arseneault and Jonathan Dubé.
Collaborative development : Jimmy-Angel Bossum, Justine Bourdages, Joanie Desgagné, Mélissa-Jane Gauthier, Sophie Kurtness, Yvette Mollen, Marc Pedneault, Laurie Poirier, Jean St-Onge, Shana St-Onge and Mireille Vachon.
Experts in education : Emmanuelle Aurousseau, Shannon Blacksmith-Charlish, Dominique Bégin, Loïc Di-Marcantonio, Céline Nepton, Éric Noël, Claudie Robertson, Christine Tremblay and Marilyne Soucy.
Filming and post-production of complementary audiovisual content : Carl Morasse, François-Mathieu Hotte, Bogdan Stefan, Olivier Bergeron-Martel, Marc-André Bernier and Guillaume Internoscia.
Partners in production and realization : Peak Media, Le Musée des Abénakis, Le Musée Shaputuan, Val-d'Or Native Friendship Centre, Avataq Cultural Institute and Native Montreal.
---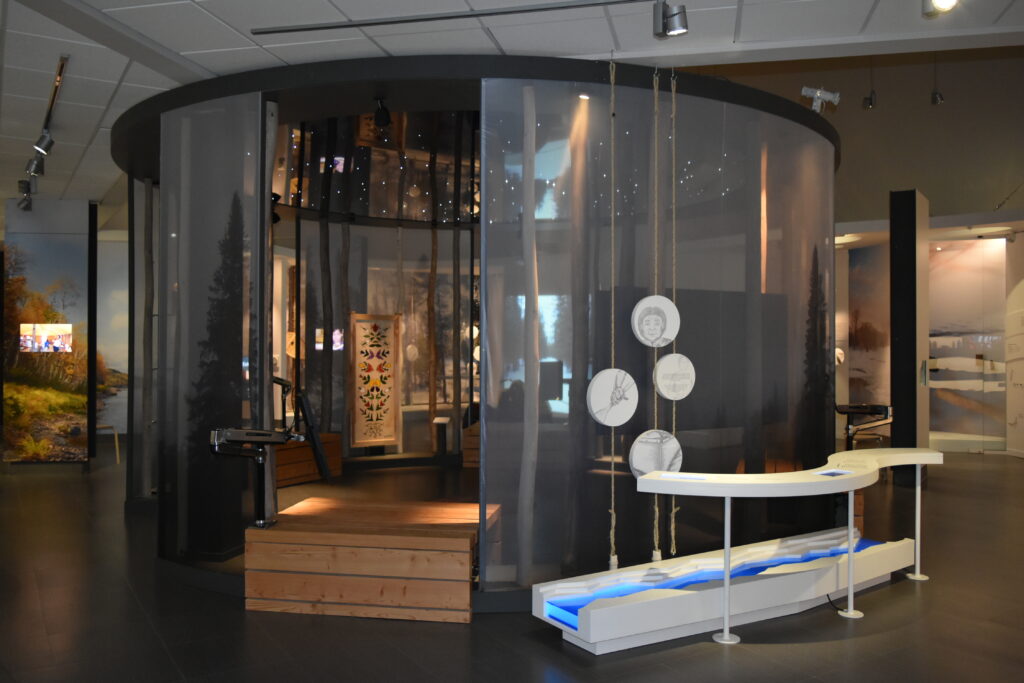 The exhibition Tshilanu Ilnuatsh, of the Musée amérindien de Mashteuiatsh, receives an Award of Excellence from the Canadian Museum Association
On May 13, the Canadian Museums Association (CMA) granted the Award of Excellence in the Exhibition category to the Musée amérindien de Mashteuiatsh for its exhibition Tshilanu Ilnuatsh (We the Ilnuatsh). Each year, the CMA Awards recognize and encourage excellence in Canadian museums. The Tshilanu Ilnuatsh exhibition stood out for its inclusiveness, innovation and relevance.
The exhibition was conceived to be a place of transmission, exchange and appropriation of the oral and immaterial culture. In this perspective, language and the relationship to the territory hold an important place in the way of communicating the identity, the personality and the values of the Pekuakamiulnuatsh. Several experiential and immersive activities invite visitors to explore the exhibition. The central animation space inspired by a fire pit under the stars allows guides, storytellers and elders to transmit their knowledge to visitors. Listening stations also offer videos showing activities carried out by community Elders according to different themes (lifestyle, hunting, fishing, food, clothing, etc.).
The concept of the exhibition was born from consultations conducted over a period of three years with the Pekuakamiulnuatsh. It was also conceived and realized with the team of La Boîte Rouge VIF of Chicoutimi and the company Construction Mitshuap of Mashteuiatsh. The consultation work done with the members of the community and the collaborative approach adopted throughout the process constitute one of the strong points of the exhibition since it put forward the local cultural expression and expertise.1
"We are honoured to receive this award of excellence for the realization of our new permanent exhibition Tshilanu Ilnuatsh. The pooling of local and regional expertise has allowed us to deliver an exhibition of high museum caliber that truly showcases our culture," said Sylvie Langevin, President of the Board of Directors of the Société d'histoire et d'archéologie de Mashteuiatsh and the Musée amérindien de MashteuiatshThe realization of this large-scale project was made possible thanks to the financial contribution of the Ministère de la Culture et des Communications du Québec, Heritage Canada, Indigenous Services Canada and the Fondation de l'Héritage culturel autochtone. The Executive Director of La Boîte Rouge VIF, Mrs. Claudia Néron, would like to congratulate the entire team of the museum, La Boîte Rouge VIF and the many collaborators who contributed to this success: "We were happy to participate in this achievement for which the collaborative process corresponds to our values and our mission. We would like to thank and congratulate each and every person who made this exhibition such a beautiful and important success! Everyone invested talent, heart and energy, this award is a great recognition of this teamwork! "
https://www.youtube.com/watch?v=IuMM1gwEVME&list=PLeRbhVeyrLwQ2mEBh6taMnHNuXhuoEygo&index=3
https://www.youtube.com/watch?v=IuMM1gwEVME&list=PLeRbhVeyrLwQ2mEBh6taMnHNuXhuoEygo
[1] Extract from the press release of Musée amérindien de Mashteuiatsh
Project Committee – Permanent Exhibition Concept 2016/2017
Doris Paul, Louise Siméon, Sonia Robertson, Isabelle Genest, Michel Forest, Charles Méthé.
Validation committee – concept of the permanent exhibition 2016/2017
Mendy Bossum, Nina Bossum, Charles Édouard Verreault, Erik Langevin, Gaston Gagnon, Céline Taillon.
Project committee – development of the permanent exhibition 2018/2020
Isabelle Genest, Louise Siméon, Eruoma Awashish, Michel Forest, Monique Verreault, Alice Germain, Édouard Germain.
Sound recording, translation and validation of the nehlueun
Paul Benjamin, Marjolaine Benjamin, Madeleine Jourdain, Gina Jourdain, Radio communautaire CHUK-FM
Reading Committee
Andrée Bélanger, Lise Gill, Jacques Kurtness, Loraine Moar Robertson, Stacy Bossum.
Museography, design and manufacturing
Claudia Néron, Pierre-Olivier Thérien, Marie-Christine Girard, Sophie Kurtness, Jacques Kurtness, Jean-François Vachon, Manuel Kurtness, Olivier Bergeron-Martel, Hélèna Delaunière, Katia Kurtness, Jean Casavant, Alexandre Nadeau, Jean-Pierre Verreault, Jean Rasmussen.
Audiovisual production
Carl Morasse, Marc-André Bernier, Guillaume Internoscia, Patrice Savard (Hovercam), Jean-François Vachon, Marc Pedneault, Sophie Kurtness, Philippe Martineau.
Manufacturing and installation
Mitshuap inc. (René Buckell, Gilles Gaudreault, Pascal Gaudreault et Sandra Lemieux)
Kiliex Inc.
Nomad Design
Compo Orléans, EPS Impression
Vitrerie A&E Fortin
Jean-François Fillion
Solotech (Saguenay)
WebShop
Sound recordings in nehlueun
Anael Allard, Angélique Raphaël, Bernadette Raphaël, Charles-Édouard Verreault, Huguette Vollant, Laïlye Buckett-Robertson, Karine Charlish, Leganne Bégin, Mélodie Dubé, Mikon Niquay, Monique Verreault, Mora-Alysson Verreault, Telesh Bégin, Thérèse Siméon, Yvonne Manigouche, William Gagnon, Zachary Launière.